UPDATED:
SCHEDULE FOR PHOENIX QUEST 2014 RELEASED!
9:30 Registration
10:00 Opening announcements
10:15 Herbology (Convention Hall)
10:15 Quidditch (David Allen Ballpark across the way)
11:00 Mark Marshall (Behind the Scenes footage of Sorcerer's stone)
12:00 Break (There will be limited food available for purchase or you may eat off site)
1:15 Mudbloods The movie
2:45 Costume Contest (immediately following the movie)
3:00 2nd Quidditch game
3:00 Tri Wizard Tournament (On grounds around Convention Hall)
3:30 Troy Taylor (Horcruxes of the Supernatural)
4:40 Quidditch championship game (David Allen Ballpark)
5:15 Award House Cup for trivia, Phoenix Quest Quidditch Cup, Closing announcements
BREAK
(Dinner will be on your own at any of our nearby eating establishments)
Dress for Yule Ball
7:30 Yule Ball at Convention Hall
11:00 Goodbye until next year
Tickets for Phoenix Quest 2014 are now available. 
Phoenix Quest Enid 2014 is upon us. This year's event is taking place in the gorgeous grand ballroom of the historic Convention Hall in beautiful downtown Enid, Oklahoma on Saturday, November 22, 2014 from 10 a.m. until 11 p.m. Adult tickets are $35 and kids under 14 are $25. The Adult ticket includes entry into the Yule Ball (only 14 and up). The day will consist of classes and presentations, a trivia challenge, the Tri-Wizard Cup, a Quidditch tournament at the amazing David Allen Memorial Ballpark, meet and greets with the Quidditch teams, costume contest, a special screening of "Mudbloods" documentary, vendors, food, and more. Our very own roving reporter, Reeta Skeeter, will be on the premises with her nose in all your business live tweeting throughout the festivities.
This year's presentations include:
Mark Marshall – Behind the Scenes of Harry Potter and the Sorcerer's Stone – Enid native Mark Marshall did the post-production work on the first Potter film and will share rarely seen original footage from the movie and will talk about what it was like to work with the cast. A native Oklahoman, Mark Marshall began his career in1978 when he joined Lucasfilm Ltd., serving as production assistant on More American Graffiti, Star Wars Episode V: The Empire Strikes Back and Raiders of the Lost Ark, directed by Steven Spielberg. In 1984, he joined Amblin Entertainment as personal assistant to Mr. Spielberg. During that time, Marshall assisted on a varied slate of projects including Indiana Jones and the Temple of Doom, the Goonies, The Color Purple, Empire of the Sun and Indiana Jones and the Last Crusade as well as Spielberg's television series, Amazing Stories. In 1989, Marshall joined Donner Shuler-Donner Productions as a production representative to producer/director Richard Donner on HBO's hit series, Tales from the Crypt. During hiatus on that series, Marshall joined producer Jennie Lew Tugend as her assistant on Radio Flyer and Lethal Weapon 3. In 1992, Tugend tapped Marshall as a producer on the Free Willy trilogy for Warner Bros. Marshall also brought his considerable post-production experience to such films as Assassins, Lightning Jack, Star Kid, Message in a Bottle, Billy Crystal's 61* for HBO, Harry Potter and the Sorcerer's Stone and Mary-Kate & Ashley Olsen's big-screen debut, New York Minute. He also served as production manager on the Academy Award-nominated short film, Kangaroo Court, directed by Sean Astin. He is currently producing the historical documentary, Sultana, with his brother, Mike. It is due for release in April of 2015.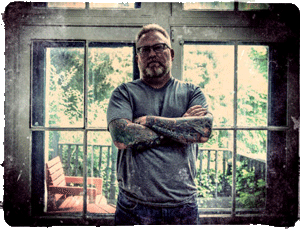 Troy Taylor presents the Seven Horcruxes of the Supernatural – As every Harry Potter reader knows, Voldemort hides a fragment of his soul in seven objects so that he can attain immortality, but can such things really exist? Can objects actually hold the essence of a spirit and become haunted or cursed? Supernatural historian Troy Taylor (author of more than 100 books on ghosts and hauntings) offers a chilling presentation on 7 real-life objects that were believed to be haunted! You'll get cold chills with tales of a silent screen actor's cursed ring; an Egyptian mummy that caused one of the most famous shipwrecks in history; a child's doll that became possessed by a dying boy's spirit; a haunted brick from one of America's best-known crime scenes; a box that contained a demon; a haunted painting that has been sold and returned countless times; and more! You'll think twice about what you bring home from your next trip to the antique store! Check out Troy's website at http://www.prairieghosts.com.
Meleissa Weller – Weller is the owner of the Herbs and Herbal Teas shop and will be presenting our Herbology Class.  She will discuss the properties and uses of many of the herbs used at Hogwarts.
Mudbloods – A special screening of the documentary "Mudbloods" will be shown at Phoenix Quest. Directed by former UCLA film student, Farzad Sangari, it is being released on October 14th on demand and in limited theatrical releases so this is indeed a treat to have in Enid.
There is vendor space available for $50. For more information contact info@enidevents.com or follow us on Facebook at PhoenixQuestEnid or call (580) 402-6732 or (580) 747-9281.