Saturday, September 23, 2017 will find the Ghostlahoma Paranormal Conference taking place at the historically haunted Gaslight Theatre in beautiful downtown Enid, Oklahoma.
Speakers are still being added but include our friend from the north, Mr. Troy Taylor, the godfather of paranormal conferences and the author of over 100 books on haunted history and true crime (and he's the publisher of Ghostlahoma – Over 100 Years of Haunted History). Owner of the Weird Chicago Tour Company, Troy has done haunted tours of Chicago, Alton (one of the most haunted towns in America!), Decatur, Carlinville, and Jacksonville, Illinois, where he is also the proprietor of Taylor Mercantile. He offers haunted overnights throughout the year and recently started the American Hauntings Podcast which airs every other week and covers a variety of ghostly topics. There's not much Troy doesn't know about America's haunted history and as such, has been showcased on many national television shows over the years. In our opinion, he is the foremost expert on haunted history and we love his no nonsense approach to his presentations. We are proud to say that our conference is one of the only ones besides his own where he speaks these days.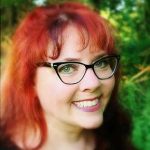 Becky Ray of Ghosts-a-Go-Go will also be joining us. Becky has had an interest in the paranormal as long as she has had memories. She has been actively investigating the unknown for over 30 years and is a founding member of the team Paranormal Activity Investigators, which has been based in the Kansas City area since 2003. Growing up in Oklahoma Becky received her BA in Speech/Theater from Southwestern Oklahoma State University. After college she moved to California for several years before moving to the Kansas City Metro area. Becky currently hosts the live paranormal storytelling show "Ghosts a Go-Go." She continues to work in broadcasting and was the co-host of the podcast "The Darker Side of the Moon." Becky is also a comedic performance artist and occasionally still performs burlesque. Becky's knowledge of the paranormal has been featured on NPR, in the Wall Street Journal, and on several local media outlets including radio, television, and print.
Troy Hudson, is a native of SE Oklahoma,  Troy spent most of his youth in the woods camping or hiking, growing up in a mixed community of tribal and non-tribal citizens he was introduced to various tribal culture and customs.
Troy covered hundreds of investigations from 2005-2010, also organizing and leading Bigfoot Field Expeditions all over Oklahoma, Texas, and Arkansas. Leaving the BFRO Troy teamed up with the Honobia Bigfoot Organization in Honobia, Okla (Northeastern Pushmataha County) where he is still today, he serves as one of the organizers and speakers.
Troy was introduced into the scientific aspect of Bigfoot research in 2010 by Dr. Melba Ketchum of east Texas. The Sasquatch Genome Project has been conducting physical analysis of suspected Bigfoot DNA evidence since 2006. Troy leads the Tribal Liaison development areas for the SGP, he is the bridge between tribal communities and the Bigfoot researcher world. Troy has worked with numerous tribal communities all over North American including more than 6 different tribes in Oklahoma.
Troy has been heard on numerous radio programs, including Coast to Coast AM and has appeared in numerous TV news channel documentaries.  He currently travels throughout Oklahoma and Texas speaking at functions sharing his knowldge in what the SGP knows about the DNA related to Bigfoot. He also conducts private and public Bigfoot Field Expeditions within the Kiamichi Mountains of SE Oklahoma throughout the year.
Troy has more than 25 years of law enforcement and military service.
Sequoyah Guess is a full blood member of the United Keetoowah Band of Cherokee Indians in
Oklahoma. He speaks, reads and writes in the language of his people. He is one of few people who have
been certified by the United Keetoowah Band and the Cherokee Nation of Oklahoma to teach the Cherokee Language. In 2014, Sequoyah was honored by his people when he was designated a "Tradition Keeper" for storytelling. Another honor came his way when he was asked to tell stories at an Intertribal Elder's Conference in Oklahoma City. He has served as Chairman for the Historic Preservation Committee and senior Cultural Site Investigator for the United Keetoowah Band and served as a consultant for the Historic Preservation Office. Sequoyah was passed on the position as the family Storykeeper from his Great Aunt, Maggie Turtle, before she passed on at the age of 98. He has been telling stories for over thirty five years and throughout the years, he has gathered and told stories shared with him from other Elders of the Cherokee and Keetoowah people. He has particpated in storytelling events during the Cherokee Holiday, the Keetoowah Celebration, the Eastern Band Fair, at the Cherokee Heritage Museum in Oklahoma and the Cherokee Museum in Cherokee, North Carolina. Sequoyah carries the honor of being the only Storyteller to ever be asked to tell a story at a Cherokee Nation of Oklahoma Council meeting. He works closely with the United Keetoowah Band, the Eastern Band of Cherokees and the Cherokee Nation of Oklahoma concerning the heritage of his people. He is also a member of the infamous Turtle
Island Liars Club, a group of Cherokee and Keetoowah storytellers.
In addition, Sequoyah is an author of nine books and a film maker. In 1992, he scripted, produced and directed the All Native American produced film "KHOLVN – The Ravenmocker" a thriller involving
indigious medicine. He has produced and directed several cultural films and in 2006 scripted and directed a short film entitled "FREE MONEY" (based on a story told to him by an elder) which was featured at the Red Fork Native American Film Festival in Tulsa, Oklahoma. Sequoyah is also a singer/songwriter, a musician and a cultural presenter.
Ghostlahoma co-author and GHOULI (Ghost Haunts and Urban Legends Investigations of Oklahoma) founder, Tonya Hacker will also be speaking. Tonya has at least 15 years in the paranormal field and has some of the best EVP (Electronic Voice Phenomenon) ever caught on tape. Her ghostly adventures into historic locations prompted her to pursue her dream of becoming a photographer and she has a love for urban exploration.
Ghostlahoma co-author and Eerie, Oklahoma founder, Tammy Wilson, will be joining her cohort to talk about the local haunted history of Enid, Oklahoma as well as that of the Gaslight Theatre, Oklahoma's most active community theatre. Tammy is the owner of Enid Event Company and does the Eerie Enid Ghost Tours as well as Oklahoma Ghost Town tours.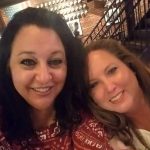 Your Ghostlahoma hosts, Tonya and Tammy, are possibly better known as starting the controversial blog that later became a long running and internationally popular podcast, The Ghost Divas, where they interviewed just about every "famous" person in the paranormal field at the time. They have been featured on the The Learning Channel, state news, radio, and newspapers across the state and as far away as Florida.
In addition to these well versed presenters, we will also have several vendors. Not just any old vendors – vendors of oddities and obscura – so be sure to bring your spending money!
We have several great places to eat in downtown Enid and we will be sure to have that information available at the conference.
Tickets for the conference are $25 through Sept. 22 and $30 at the door. The additional social event is $15. Vendor spaces are available for $25.
Now, if you're a real die hard fan of the ghosty goodness, we have, for an additional fee, a VIP opportunity to attend an evening social event. We'll have more on that soon.
We are excited to see everyone! Bookmark this page to check for updates and like us on Facebook.